We have worked hard to identify the newest and most effective wrapping materials for the chocolate industry. Working with major suppliers , we provide:
Neapolitan wrapping materials which permit heat sealing systems and work well with metal foil stamping.
Embossed foil and paper for wrapping
Foil or foil/OPP materials - heat sealable but much thinner to save cost. Can be used with bars, shaped confectionery or hollow goods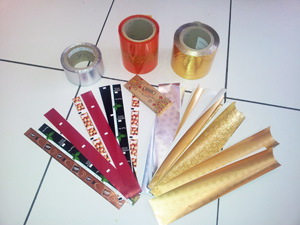 Biggest and most important point is providing double twist wrappers saving up to 43% of the weight of material required at the present time. These savings are very high and show how the latest technology can save the cost of new high speed wrappers in less than a year to 18 months.
Need a way to save money - contact us and let us know what you require.